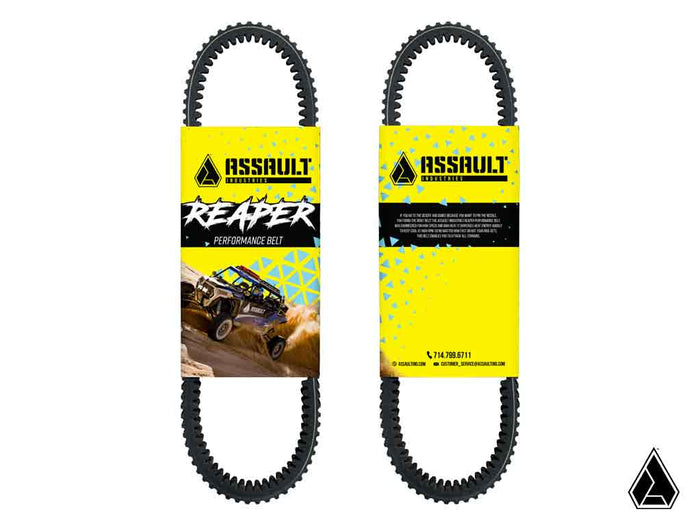 The Belt You Need
When you put the pedal down on your ACE, you need to focus on what's ahead of you, not what's going on in your clutch. So make sure you have a belt that's ready for battle by upgrading your Polaris ACE with Assault Industries' Reaper CVT Drive Belt. It's built for higher revs, harsher terrain, and better performance than OEM could ever handle. Perfect for when you're riding solo.
Advanced Construction for High Revs
The Reaper drive belt is the best belt for going fast. If you want to pin the needle and keep the pedal down, you're in the right place. It's built to withstand shock loads from up 400 HP engines with its aramid fiber cord, rigid sidewalls, and advanced sheave adhesion, so it's more than capable of handling your ACE. The specialized compound is designed to stay in one piece and keep gripping and engaging smoothly no matter how hot or hard you go. When you're ready to go on the attack, make sure you have a Reaper drive belt in your clutch.
LIMITED WARRANTY AND WARRANTY DISCLAIMER
Assault Industries ("AI") warrants to the Customer that new product will be free from defects of material and workmanship under normal and proper use for a period of three (3) months from the date of purchase ("Limited Warranty Period").

For purposes of illustration, but not limitation, the following are not defects in material or workmanship: (a) normal wear and tear and/or required maintenance; (b) improper handling, storage, mounting, installation, lubrication or maintenance; (c) damage resulting from or related to misuse, abuse, unauthorized modification or alteration, accident, acts of God, or external causes; and (d) cosmetic damage (nicks, bruising, discoloration).

EXCEPT WHERE PROHIBITED BY LAW, THIS WARRANTY IS EXCLUSIVE AND THE ONLY WARRANTY APPLICABLE TO THE PRODUCT. IT IS OFFERED EXPRESSLY IN LIEU OF ANY OTHER WARRANTIES, EXPRESS OR IMPLIED, INCLUDING ANY IMPLIED WARRANTY OF MERCHANTABILITY OR FITNESS FOR A PARTICULAR PURPOSE, ALL OF WHICH ARE DISCLAIMED.

To the extent a state or jurisdiction prohibits the disclaimer of implied warranties, such implied warranties are limited to the three (3) month Limited Warranty Period.

LIMITED REMEDIES
If the Product fails because of a defect in material and/or workmanship during the Limited Warranty Period, AI shall replace the Product. AI's replacement shall be made at no cost for parts to the Customer. The Customer shall be responsible for all labor costs related to the removal and/or replacement of the Product. The Customer shall also be responsible and must prepay all shipping or transportation charges associated with the warranty service including return of the Product to AI. Additionally, the Customer shall assume all risk of loss or damage to the Product until receipt by AI. In the event of a defect, to the extent permitted by law, these are the Customer's sole and exclusive remedies.

INCIDENTAL AND CONSEQUENTIAL DAMAGE DISCLAIMER
EXCEPT WHERE PROHIBITED BY LAW, AI DISCLAIMS AND UNDER NO CIRCUMSTANCES SHALL BE LIABLE FOR SPECIAL, INCIDENTAL, INDIRECT OR CONSEQUENTIAL DAMAGES OR LOSSES RESULTING FROM THE USE, MISUSE, OR INABILITY TO USE THE PRODUCT AS WELL AS ANY BREACHES OF THIS WARRANTY OR ANY IMPLIED WARRANTY REGARDLESS OF THE CAUSE AND EVEN IF THE CLAIMED DAMAGES OR LOSSES WERE CAUSED BY A WARRANTABLE DEFECT. IN NO EVENT SHALL AI'S LIABILITY EXCEED THE SELLING PRICE FOR THE PRODUCT.

OBTAINING WARRANTY SERVICE
To obtain warranty service on your Product, you must email customer_service@assaultind.com or contact AI Customer Support at (714)799-6711 promptly upon failure. You will need to provide valid proof of purchase. You may also be required to submit a photo of the failed Product. Upon verification that it is an AI product and within the Limited Warranty Period, Customer will be provided a Return Material Authorization to return the Product to the address directed by AI Customer Support. At AI's discretion, from time to time for your convenience, AI may ship you a replacement Product prior to your return or AI's inspection of the Product. Should that occur, you agree that if AI's inspection of the returned Product reveals that the Product has not suffered a warrantable defect, then you will pay for the replacement Product.

GOVERNING LAW
This Limited Warranty shall be governed by the laws of the State of Indiana without giving effect to any conflict of laws principles that may provide the application of the law of another jurisdiction. If any term is held to be illegal or unenforceable, the legality or enforceability of the remaining terms shall not be affected or impaired.
Download Instructions for:
The Assault Industries Polaris ACE Reaper CVT Drive Belt fits the following:
OEM Part #: 3211172/ 3211149
Polaris ACE 900 : 2016-2019
OEM Part #: 3211172/ 3211149/ 3211148
Polaris ACE 570 : 2017
Polaris ACE 570 (EBS) : 2015-2016