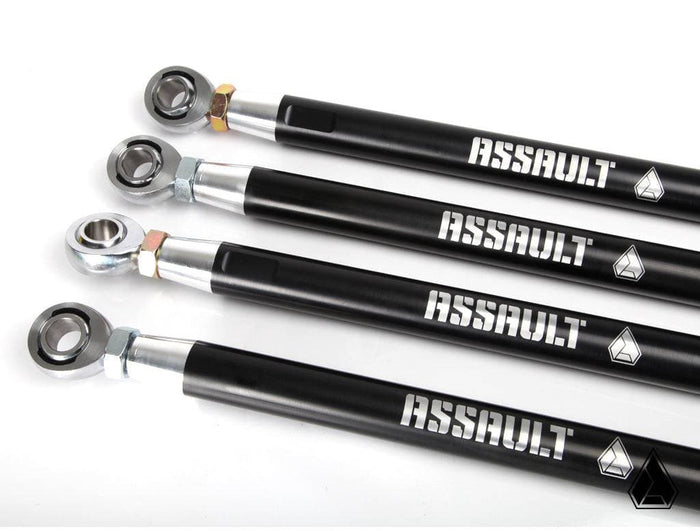 The Assault Industries barrel style heavy duty radius rods for Honda Talon are designed and manufactured in California using state-of-the-art machinery and aircraft grade materials.
This kit retains OEM clearance but adds 3x the strength and rigidity over the factory setup. Assault Industries radius rods are machined from 6061 T6 aluminum and hard anodized black with polished chromoly adjustable Heim joints.
RACE SPEC
The Race spec rods feature a Left/Right rod configuration for quick and easy install and adjustment as well as some additional machining over the standard kit. Assault Industries does not recommend this kit for recreational use as lock nuts and settings must be checked often to ensure that nothing comes loose or goes out of adjustment.
Note: Loose lock nuts can allow L/R rod to turn and unscrew itself over time which can be bad if complete separation occurs - This is why it is not recommended for recreational use vehicles where the setup will generally remain standard and fixed.

This stylish kit will look amazing while performing above and beyond OEM specifications!
PACKAGE CONTENTS
Radius Rods
Installation Hardware
Installation Instructions
TERMS OF WARRANTY
Assault Industries offers the premium product on the market and extends the industry's best warranty to go with it. Each product carries a 3-year limited lifetime warranty against manufacturing defects.

Assault Industries warrants to the original purchaser that each part be free from defects.

LIMITED REMEDIES
If the Product fails because of a defect in material and/or workmanship during the Limited Warranty Period, AI shall replace the Product. AI's replacement shall be made at no cost for parts to the Customer. The Customer shall be responsible for all labor costs related to the removal and/or replacement of the Product. The Customer shall also be responsible and must prepay all shipping or transportation charges associated with the warranty service including return of the Product to AI. Additionally, the Customer shall assume all risk of loss or damage to the Product until receipt by AI. In the event of a defect, to the extent permitted by law, these are the Customer's sole and exclusive remedies.

INCIDENTAL AND CONSEQUENTIAL DAMAGE DISCLAIMER
EXCEPT WHERE PROHIBITED BY LAW, AI DISCLAIMS AND UNDER NO CIRCUMSTANCES SHALL BE LIABLE FOR SPECIAL, INCIDENTAL, INDIRECT OR CONSEQUENTIAL DAMAGES OR LOSSES RESULTING FROM THE USE, MISUSE, OR INABILITY TO USE THE PRODUCT AS WELL AS ANY BREACHES OF THIS WARRANTY OR ANY IMPLIED WARRANTY REGARDLESS OF THE CAUSE AND EVEN IF THE CLAIMED DAMAGES OR LOSSES WERE CAUSED BY A WARRANTABLE DEFECT. IN NO EVENT SHALL AI'S LIABILITY EXCEED THE SELLING PRICE FOR THE PRODUCT.

OBTAINING WARRANTY SERVICE
To obtain warranty service on your Product, you must email customer_service@assaultind.com or contact AI Customer Support at (714)799-6711 promptly upon failure. You will need to provide valid proof of purchase. You may also be required to submit a photo of the failed Product. Upon verification that it is an AI product and within the Limited Warranty Period, Customer will be provided a Return Material Authorization to return the Product to the address directed by AI Customer Support. At AI's discretion, from time to time for your convenience, AI may ship you a replacement Product prior to your return or AI's inspection of the Product. Should that occur, you agree that if AI's inspection of the returned Product reveals that the Product has not suffered a warrantable defect, then you will pay for the replacement Product.

GOVERNING LAW
This Limited Warranty shall be governed by the laws of the State of Indiana without giving effect to any conflict of laws principles that may provide the application of the law of another jurisdiction. If any term is held to be illegal or unenforceable, the legality or enforceability of the remaining terms shall not be affected or impaired.
Download Instructions for:
The Assault Industries HD Barrel Radius Rods (Fits: Honda Talon) fits the following:
Honda Talon 1000X : 2019+
Honda Talon 1000X-4 : 2020+